The cities of Sliven, Bydgoszcz and Niš started a joint partnership
09.09.2019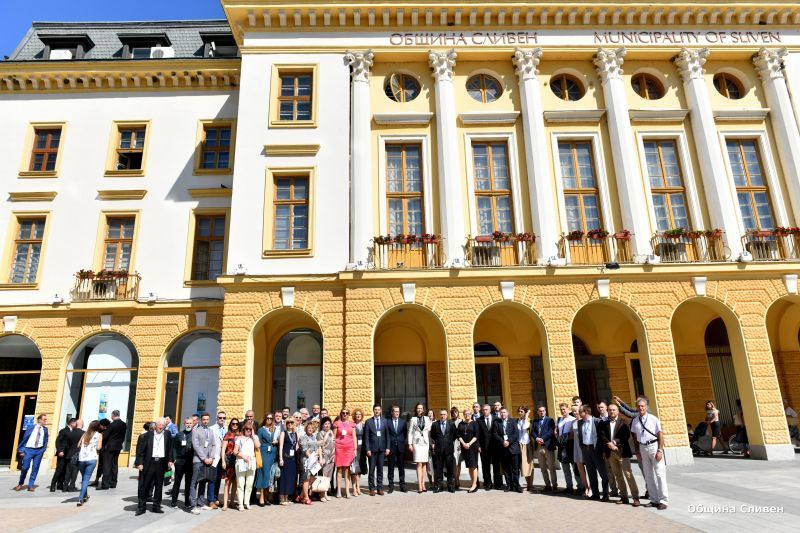 At an official ceremony in the May Hall today, Sliven has twinned with the cities of Bydgoszcz (Poland) and Niš (Serbia). The event was attended by delegates and diplomats from both countries. The meeting is held under the motto "Together we can do more". In his welcome speach, the Mayor of Sliven - Stefan Radev stressed that Europe unites citizens.
"Welcome to Sliven! We really can do more together, which is the motto of the meeting. In this digital world it is good to see each other face to face and talk to each other in person. The most important thing we can do together is to trace the path of cooperation in the fields of culture, education, youth activities, business. I am convinced that we have much to learn from the good experience of the fast-growing cities as Bydgoszcz and Nis. I am convinced that we also have a lot to show. Our city is not only very beautiful, but also the first industrial city in Bulgaria, it is a home to many hardworking and hospitable people too. I take this opportunity to congratulate you on behalf of the citizens of Sliven Municipality with welcome. I really hope that we will lay the foundations for a long-standing cooperation, from which we will mutually benefit and create the basis for many friendships between the people of the three cities. I wish all of you a very pleasant time in Sliven, many new friends to meet here, and I wish our cities to be one step to build long-term and fruitful cooperation, "said Mayor Radev, who was greeted with great applause.
The guests thanked for the good organization and realization of this project.
"It is very important and we are happy to be here today. Thanks for the meeting. There are no random people in our delegation. They are all specialists in different fields and I believe we will find many common ground in which to cooperate, "said Joanna Zataj-Ross, Deputy of the Mayor of Bydgoszcz Rafal Bruscki on international cooperation.
"I am very pleased to be here today to see with my eyes your initiative. Europe is one and the world is not big. And although it seems to us that everything is close, the actual meetings look different. I would like with this event we share ideas and opinions. I hope that this participation will be useful" - commented Andrzej Mojkowski, Chargé d'affaires at the Embassy of the Republic of Poland in Bulgaria.
"It is a great honor and pleasure to come to your city. You are extremely hospitable. The warm welcome made all of us feel great here. I convey my heartiest greetings from the Mayor of Niš and his wishes for the development of your city. This meeting promises a lot about this partnership in various fields such as culture, education, technology. It is important because this is how contact is made between the cities "- said Marina Kostic, Deputy of the Mayor of Niš Darko Bulatovic.
"It is a great honor and responsibility to be here at such a meeting, which is attended by so many people from three cities, from three nationalities. There is an energy in all of you that heralds good co-operation" - said Gordana Bozic, Minister Counselor at the Embassy of the Republic of Serbia in Sofia.
The event was attended by Dimitar Mitev - Chairman of the City Council of Sliven, Kamen Kostov - Deputy Governor of Sliven District, Bratislav Vucovic - Member of the City Council of Niš, representatives of the administration, educational and cultural institutions, universities, chambers of commerce and industry, local and regional development agencies, industrial and technological parks, tourist and cultural centers, business representatives, non-profit organizations and media from the cities of Sliven, Bydgoszcz and Niš, as well as from other cities in Bulgaria, Poland and Serbia.
All three cities were promoted at the forum with their nature, culture, economy, education and development opportunities. The program provides a tour of the cultural and historical sights of Sliven.
The international meeting continues until Wednesday, including. For Tuesday a cultural forum is scheduled: "Europe - our common home" and the Youth Debate: "United Europe - Security, Solidarity and Stability". On Wednesday is the Economic Forum: "The future of Europe - employment, growth and investment - together we can do more". It will also present for the first time the business directory "Sliven and Yambol Investment Destination", which presents the two municipalities as one economic unit.
The international event is organized by the Sliven Municipality in partnership with the cities of Bydgoszcz (Poland) and Niš (Serbia) is within the Project "United Europe - Security, Solidarity and Stability for All"co-financed by the European Union through the Europe for Citizens Programme.
---
Gallery:
---
Пресслужба на община Сливен
Адрес: Бул. "Цар Освободител" 1
Тел: 044/611 112
Факс:044/66 23 50
Email: press@sliven.bg
За контакти: Връзка с обществеността
Източник: www.sliven.bg Позоваването на източника е задължително.
---