The possibilities for cultural cooperation were discussed by Sliven, Bydgoszcz and Nis
10.09.2019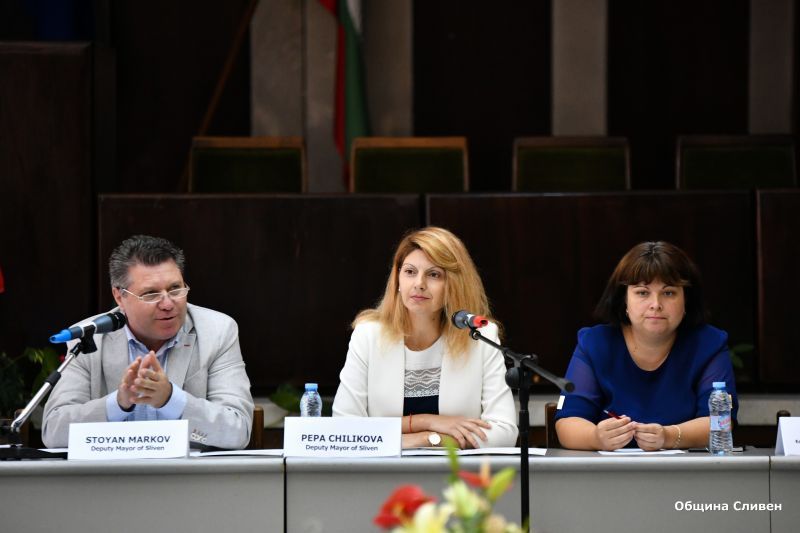 The International Meeting Europe - Our Common Home in Sliven continues. A forum dedicated to the culture, history and education of Sliven, Bydgoszcz (Poland) and Niš (Serbia) was held today in the May Hall. Sliven representatives and guests from Poland and Serbia made a presentation in their cities. Deputy Mayor Pepa Chilikova welcomed the participants in her opening speach. She hopes that a successful partnership and cultural cooperation between the three cities will be launched today.
"We have prepared for you to a great extent the opportunities for culture and art in our city and I hope that you will participate in the future editions of our festivals and, of course, find interesting events to tell to your fellow citizens. For us, the main objective in the field of culture is to build lasting cultural bridges with European cultural centers and especially with our twin cities. I am convinced that as of yesterday, with the beginning of a good joint cooperation between Sliven, Nis and Bydgoszcz, today we will start the cooperation in the field of culture, art and education" - said Pepa Chilikova - Deputy Mayor in her welcome speach.
The international event is organized by the Sliven Municipality in partnership with the cities of Bydgoszcz (Poland) and Niš (Serbia) is within the Project "United Europe - Security, Solidarity and Stability for All"co-financed by the European Union through the Europe for Citizens Programme.
---
Gallery:
---
Пресслужба на община Сливен
Адрес: Бул. "Цар Освободител" 1
Тел: 044/611 112
Факс:044/66 23 50
Email: press@sliven.bg
За контакти: Връзка с обществеността
Източник: www.sliven.bg Позоваването на източника е задължително.
---